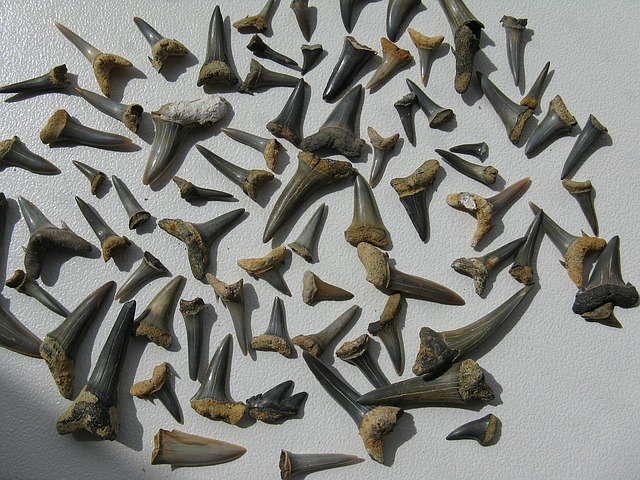 Though you may stumble upon shark teeth on many of the beaches in Sarasota County, one beach, in particular, is world famous for it – Venice Beach.
Here you'll find beachgoers combing the sand, searching for discarded teeth from the ocean's infamous hunters – sharks.
History of Fossilized Shark Teeth in Venice, FL
Ten million years ago, Florida was submerged under water and the area was covered in sharks. Over time, that water receded and those prehistoric sharks died, leaving fossilized teeth.
The Venice area, just south of Sarasota, sits on top of a fossil layer that runs 18-35 feet deep. Storms and waves slowly drive these fossils into shallow waters and then up onto the beach.
How to Find Shark Teeth on Venice Beach
Finding these shark teeth isn't too complicated. In fact, most people simply walk along the beach looking at the sand for the shiny black teeth.
Others who aren't as patient will wade into the water where waves break and reach down for a scoop of sand and shells. Once they've scooped a sufficient amount of sand and shells they'll return to shore to sift through, looking for their prize.
Most shark teeth are from 1/8″ to 3/4″ or even a bit larger. The really large shark teeth are usually farther out and may require dive equipment to locate.
Shark teeth collectors say the best places to look for the fossils are beaches south of the Venice Jetty, including Casey Key and Manasota Key.
Things You'll Need for Shark Tooth Hunting
Here are some of the essentials when hunting for shark teeth:
Sunscreen
A Hat
Small baggie or container for the teeth
Kitchen sifter or Venice "snow" shovel basket (available at the pier or Ace Hardware)
Patience
Once you have gathered some shark teeth, if you are interested to know the source of teeth you found, a handy guide found at local bookstores will help you identify them. Whether is it from a lemon, mako, bull, whitetip, megalodons – just to name the common ones.
Then if you're interested in seeing some sharks up close, you can always visit Mote Marine Laboratory and Aquarium, which has plenty of sharks and other marine life to see.
Every year, more and more people choose to visit Venice. The area's friendly, welcoming atmosphere makes for a wonderful vacation or lifestyle. You can experience the true charm of Venice, FL with a vacation rental from Jennette Properties. For more information, contact us today!