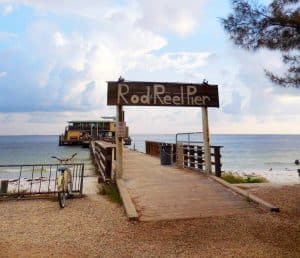 You're only a bridge away from one of Florida's most relaxing hidden gems. Anna Maria Island is a family-friendly 7.5-mile barrier island paradise for beach lovers. Located off Florida's southwest coast, on the Gulf of Mexico, Anna Maria Island is comprised of three communities: Anna Maria on the north end, Holmes Beach in the middle, and Bradenton Beach to the south.
Anna Maria is the most residential and the quietest of the three communities, while Holmes Beach is the largest, boasting the most residents and three miles of beach. Bradenton Beach is centred around its bayside pier area and Coquina Beach. Dining, shopping and beaches are abundant in all three areas.
Here are a few must-sees of the island:
Rod & Reel Pier
Tucked away on the far north end of Anna Maria Island, it is Rod & Reel Pier, a famous staple of the island. You'll see fishermen casting lines as you walk down the boardwalk to the restaurant serving traditional fare, local favourites and famous fish specials since 1947. The Rod & Reel Pier is a two story, newly renovated restaurant, directly out on the Gulf of Mexico.
Pine Avenue Shops
Pine Avenue is a great place to begin your shopping on Anna Maria Island. Boutiques are lined along this street and it runs right into the historic Anna Maria City Pier with an amazing view of the bay.Grab an ice cream cone, gift or just wander along the 100-year-old historic pier and review local hand-made jewellery.
Bridge Street
Located in Bradenton Beach, Bridge Street has managed to retain the charm of laid-back Florida. Instead of high-rise condos and shopping malls, you will find boutique style shops and restaurants right across the street from sugar-white beaches and emerald gulf waters.
You may not have heard of Anna Maria Island, but it's a great spot to enjoy the beach, shopping and dining that south Florida has to offer. Anna Maria Island also offers some of the best vacation rentals near the Gulf of Mexico. To find out more about the beach vacation rentals available, contact Jennette Properties today!