If you love sea creatures, take a day trip to Apollo Beach to see the Manatees. One of the greatest things about vacationing in Sarasota & Bradenton is it's location. There are so many fun and exciting destinations within a few hours drive which makes day trips easy and convenient.
A Little History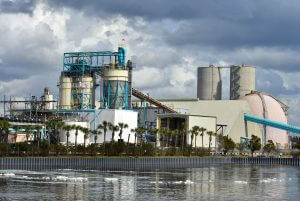 Approximately an hour north of Sarasota in Apollo Beach is the Manatee viewing center. Open from November 1st to April 15th when the ocean is 68 degrees or colder, the manatees gather here seeking warmer water. There is a power station called Big Bend Unit 4 that pulls water from Tampa Bay to cool the machinery. The cleaned water is returned into the discharge canal creating a warm spa for the manatees. Big Bend is state and federally designated as a manatee sanctuary.
What is a Manatee?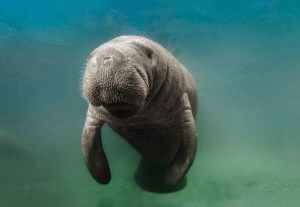 Florida's official marine mammal is the Manatee. Manatees are large veggie eating sea mammals. Also known as sea cows, Manatees can reach 13 feet long and can weigh over 1000 pounds. They are slow moving and spend most of their time grazing and sleeping. Manatees can live up to 60 years. Snooty the Manatee was one of the more famous Manatees who lived at the South Florida Museum in Bradenton. He was the oldest manatee in captivity at 69 years old when he died in 2017. Manatee County was named after the Manatee and you will see them represented throughout the county.
Things to See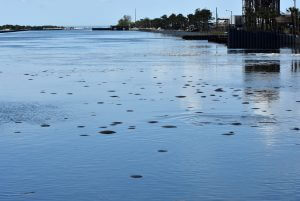 Upon arriving at the Manatee Viewing Center you will see the observation deck. Looking out over the water you will see these little humps sticking up out of the water. At first you are not sure what you are looking at because everything seems so calm. Upon further inspection, you realize all those humps are Manatees. You will see a nose or an arm pop up as they lay on their backs. Others will flap their large paddle like tails as they move slowly through the water. Some are curious and swim up under the observation deck where you can see them in more detail. Their size can only be appreciated when you see them in up close and personal. Babies swimming along side their mothers is an endearing sight.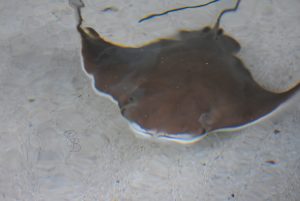 After visiting the observation deck you can make your way back to the boardwalk that goes out in the canal. Here you will see other wild life such as birds, fish and even some sharks. Be brave and touch a stingray in the petting tank under the main building. Grab a bite to eat at the snack bar or bring a lunch and picnic in the butterfly garden.
Take a Stroll on the Nature Trail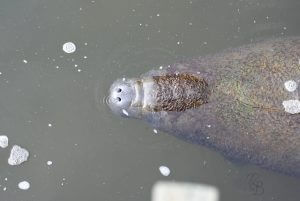 Finally, once you have grabbed some lunch, venture off to the nature trail. This is a mile long walk so be sure to have the proper footwear and more importantly, bring some water. There is an observation tower along the nature trail that allows a birds eye view of the surrounding area. Make your way through the vegetation and enjoy seeing all the beauty nature has to share. Bring your camera, you will be sure to get some amazing shots.
Day Tripping
The Manatee Viewing Center at Apollo Beach is free excursion, therefore, please be sure to patronize the snack bar, the gift store or drop a donation in the donation box. Day trips are a great way to try something new and get away from the everyday. Whether you are new to the area or are a seasonal guest that comes back year after year, it is always exciting to have new experiences. The Sarasota and Bradenton area is a great home base with destinations like Tampa, Orlando, Naples the Everglades and Miami within a days travel. Be sure to add some day trips to your Florida vacation.
Jennette Properties is Your Luxury Vacation Resource
Jennette Properties is a full service property management company. We specialize in managing and leasing annual and vacation rentals. We have three offices and over 20 agents to accommodate your needs. If you are looking for a rental or have an investment property you are looking to lease, please give us a call.