Back in 1955, Longboat Key officially became a town, but the island's history goes back much further. That's why the Longboat Key Historical Society created seven markers that detail Longboat Kay history. You can visit them all on your next Longboat Key vacation by hopping on you bike or in your car and taking a trip back in time.
Overlook Park
While driving north on New Pass Bridge, take a sharp left just before the Chart House restaurant to see Marker No. 1. At this site, you'll see where John Ringling, famous Sarasota circus mogul, began building his Ritz-Carlton Hotel in 1926. The project, which was never completed, became known as the "Ghost Hotel," that stood empty for nearly 40 years.
2162 Gulf of Mexico Drive
Long before Longboat Key became what it is today, a well-known Florida vacation paradise, it was home to a small farming community. Maker No. 2 is where, over 100 years ago, 18 families grew a variety of fruits and shipped them from Key pioneer and famer, Bryon Corey's, dock. Farming came to an end after a hurricane back in October 1921.
3960 Gulf of Mexico Drive
Marker No. 3 details the historic role of boats on the island of Longboat Key, FL. While you're guaranteed to see boaters out enjoying the waters on a sunny day now, back in the 1500s it was Spanish ships that were the common sight. In 1539, Hernando De Soto landed just north of Longboat Key on the Manatee River. If you're interested in learning more about De Soto, you can visit the De Soto National Memorial in Bradenton, FL. With nature trails, informative trail signs and monuments, as well as an interactive indoor exhibit, De Soto National Memorial is the perfect place to take the family for a day of learning and beach fun.
4250 Gulf of Mexico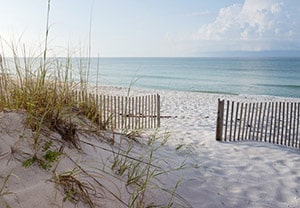 Nowadays, Longboat Key is known as the peaceful and quiet beach community but that wasn't always the case. During World War II, fighter pilots assigned to the 717th base unit at Sarasota Army Airfield soared across Sarasota Bay for training exercises, shooting at silhouettes of German tanks.
4800 Gulf of Mexico Drive
When planning your Longboat Key vacation, you'll find the area filled with fun events. But Marker No. 5 shows a time when families had to plan their activities around military drills, resulting in a mid-Key portion of the road to be blocked off.
Opposite 631 Broadway in Longbeach Village
Civil War veteran, Thomas Mann, was Longboat Key's first permanent resident. Marker No. 6 is located where he built his thatched hut, now centered in Historic Longbeach Village. By 1915, nearly a dozen homes made of concrete were added, allowing the majority to survive until current times.
Further down Broadway, north of the present dock
Before the hurricane of 1921 that ended the farming in Longboat Key, a town dock stood near the location where you'll find Marker No. 7. Large ships brought tourists and fishing parties to the dock from Tampa, and then continued to Corey's dock to carry vegetables to mainland Sarasota.
Along with most of Sarasota, and Florida in general, Longboat Key has a long and interesting history. Take a little break from enjoying the beautiful beaches to find out a little bit more about this wonderful Florida vacation destination.
If you're ready to start planning your Longboat Key vacation, contact Jennette Properties to find the best Longboat Key vacation rentals available for your timeframe and budget.