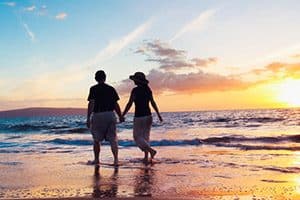 When considering a vacation, you want to make sure that you are close the parts of the city that has what you want to do; whether that be golfing, beaches, or shopping. By finding the perfect Siesta Key vacation condo rental, there's one thing you can be rest assured knowing – that you will have a great time on Siesta's world-class beaches!
There are a variety of beaches that you can visit while you are staying on Siesta Key; the most popular of which are the Siesta Public Beach, Crescent Beach, and Turtle Beach.
Siesta Public Beach
The Siesta Public Beach is the northernmost beach, and has won the Wood's Hole Oceanographic Institute's "World's Finest, Whitest" sand award for its great quartz sand beaches. It features a shaded picnic area, playground, beach volleyball courts, tennis courts and public parking. It is also easily within walking distance to Siesta Key Village, where you can enjoy shopping and drinking or dinner at the end of the day.
Crescent Beach
Crescent Beach is located just south of Siesta Public Beach, and offers a more private atmosphere with only one public access road – many resorts, apartments and beach clubs enjoy private access to this area. It is known for its Point of Rocks, the area at the southern point of the beach that features coral rock formations, giving you the opportunity to enjoy great snorkeling and diving.
Turtle Beach
Finally, Turtle Beach is located to the south of Crescent Beach, with steeper and narrow beaches that are great for collecting shells on. It is a quieter version of Siesta Public Beach, as it is family-friendly with a playground and picnic area.
No matter which beach fits your mood for the day, they are all within a short distance of the many Siesta Key Vacation condo rentals available. Contact Jennette Properties today to learn more about the rentals available during your vacation, and get ready to have a great trip!